Ryan's Story
After graduating from seminary in 2015, Ryan set out on the journey of starting a painting company and of becoming a skilled craftsman. He found a passion for helping homeowners make their projects happen while minimizing their stress. Ryan's attention to detail and courteous nature is what set him apart from other companies.
Now he only works with people who have the same values which has led to the majority of our customers coming through referrals. He wears many hats within the company and is focused on growing a professional business that changes what people expect from the painting industry. Ryan has a wonderful family of his wife Carmen, a daughter, and twin boys. He enjoys serving and preaching at his church, the outdoors, and traveling to visit relatives and friends all over the country.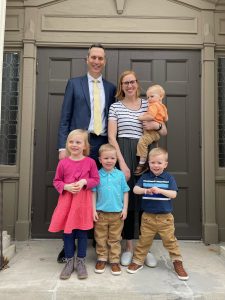 Our Mission
DIY painting can be stressful and unfortunately hiring others can be worse. Either way, it can be expensive, time consuming, and risky. When you hire Admire The Hue Painting you get honest professionals working hard to give you the best results and clear communication so you can Admire The Hue with less stress.
Our Core Values
Integrity
It goes beyond following the law or avoiding trouble. We will never be perfect but we will do our best to act with integrity in every situation.
Quality
Very few people go to work planning to do a poor job.  But do they have the dedication and drive to learn new technologies and best practices?  We strive to learn, train, and use the best practices and products.  This is how we succeed in providing the best quality.
Clarity
Clear and frequent communication with our customers and coworkers leads to happier customers and better outcomes!
Considerate
Out of love for our neighbor: We look out for the best interests of those around us. We work safely and are timely, tidy, and polite.